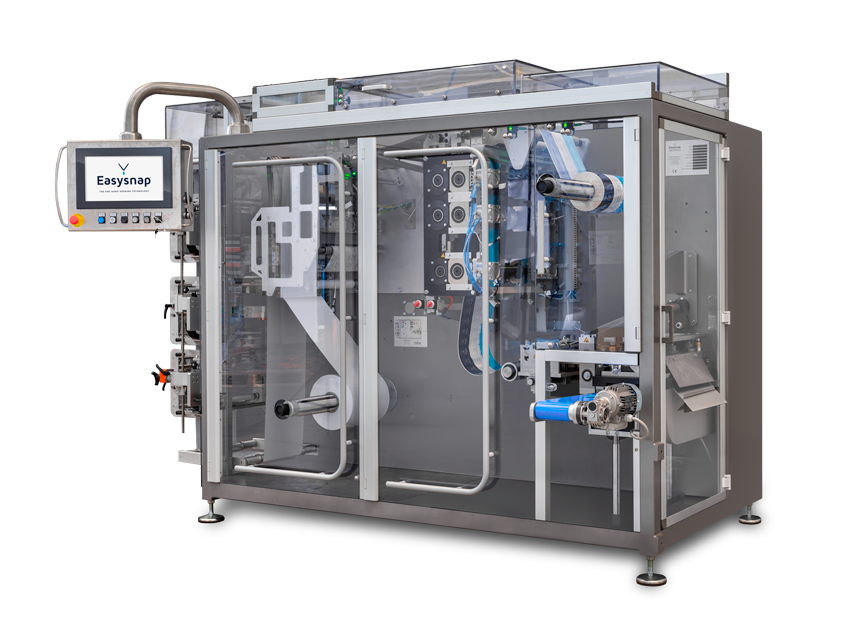 Start your growth with Easysnap® with the ultimate three lines machinery designed for agile and well-rounded productions.
---
---
---
---

EASYSNAP VOLUME
From 1 up to 12 ml*

MAXIMUN SPEED
30 cycle/min.

COMPACT FOOTPRINT
333 x 203 x 193 cm

---
Features
---
Up to 90 Easysnap®/minute in 30 cycles/min (three lines)
Designed for Easysnap® sizes 40x50, 40x80, 55x70, 60x100 mm.
Filling capacity Easysnap® volume from 1 to 12 ml*.
Filling systems available for any kind of liquids and suitable for all markets segment;
Compact and small footprint.
Feasible for multi-references production.
Easysnap Premium design "Bidose" available (upon request).
Machine groups
---
1. Bottom film unwider
2. Die cutter
3. Top film unwider
4. Product filling system
5. Air supply connection
6. Dosing pump
7. Precut system
8. Swinging arm control panel
9. Exit Conveyor
* Maximun filling capacity depend by the viscosity of the packed content.