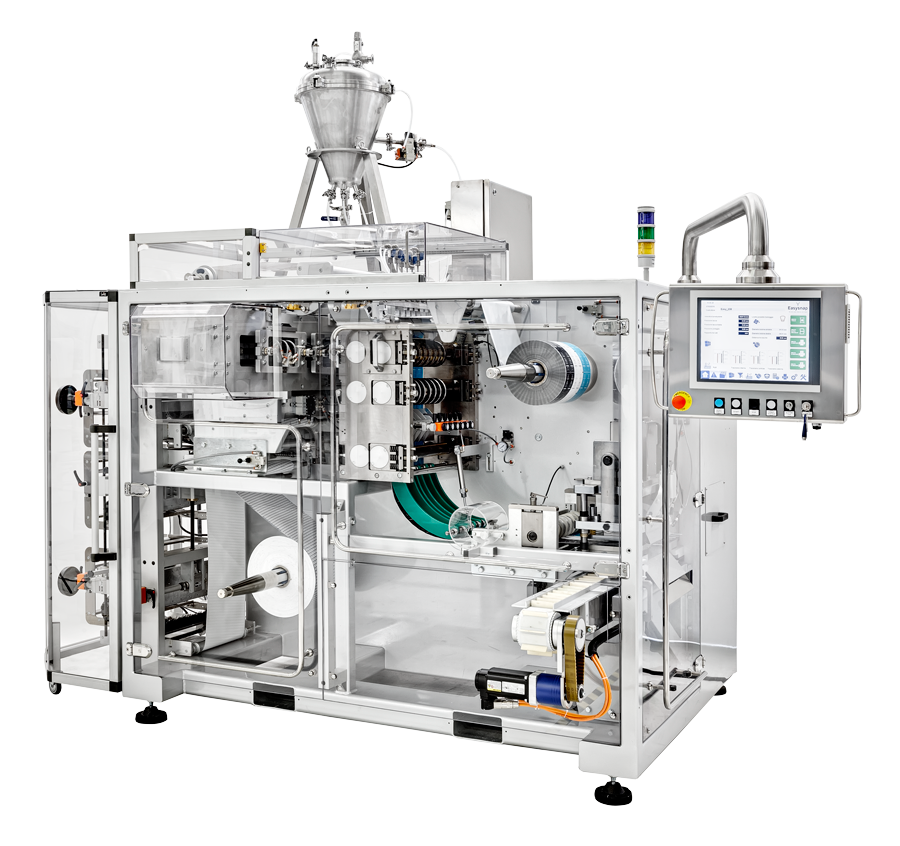 Easysnap STAR Plus can produce the Easysnap packaging that meets your needs. Designed and certified for food, cosmetic and medical device industries.
Speed performance! Up to
single-dose units/min
---
---
Machine groups
---
New product bucket out-feed conveyor compatible with any secondary automation (cartoning – blistering – weighing machine).
New open-source software compatible with ERP software (SAP, AS400, Oracle, Diapason, etc…).
New machine protection structure.
Solid innovative anti-vibration frame structure.
All product contact parts in stainless steel AISI 316 certified for food/cosmetic/medical device applications.
Modem for PLC tele-assistance.
Filling/Dosing unit for up to 3% accuracy.
Patented 6 lane variable micrometric pre-set cut group.
Heat transfer printing system for full size pouch print.
Whole machine operations driven by 7 multiple Bosch brushless motors.
Various change sets available for up to 30 ml fill.
Features
---
The only one hand opening/dispensing worldwide patented pouch machine.
High speed performance: up to 240 sachets/min.
45 min. time for a complete change set operation.
Machine can print full size bottom side pouch through its heat transfer printing unit.
Top and bottom film automatically driven towards cutting/filling/printing and towards final pouch die-cutting in only 3 meter machine footprint.
Any laminated film can be handled for proper product shelf-life.
One operator can supervise up to 2 machines.
Very low maintenance cost because of very few mechanical non-standard parts.