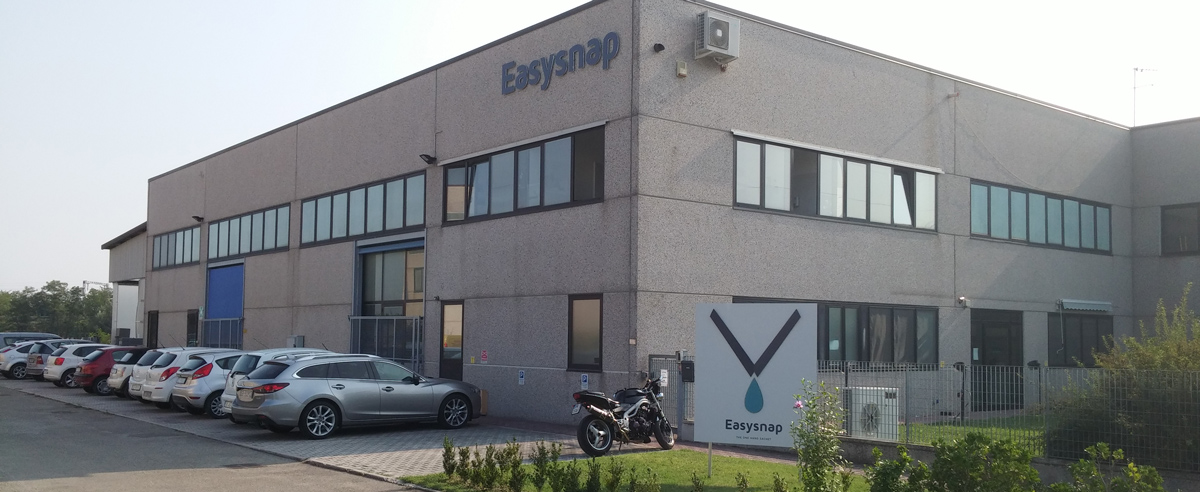 Easysnap Technology S.r.l. was founded in 2002 by Antonio and Christian Burattini. Already then the company was specialized in the production of automatic vertical form-fill-seal packaging machinery.
Since year 2006 the company invested all its resources in the development of a single dose portion pouch which can be opened with one hand and in designing a machine capable to make industrial production.
Easysnap is a single dose package for liquid and semi-dense products, innovative for
its unique opening system
: bending the packaging over 90°, a previously mechanically made center cut (patented) tends to break open progressively, according to the exercised pressure during the bending. This allows the product to flow out in a completely controlled manner. The packaging can be opened using one hand only and dispenses the product in a clean and quick way: a new packaging concept, with versatility and design.
A new marketing tool
for the food, cosmetics and pharma industry.
From year 2006 there are many patents applied on the final Easysnap and on the machinery technology, and all of them have been officially approved and published (see our patents).
Over 50 machines have been sold and operative worldwide. Easysnap machines are present in many countries (Italy, USA, Canada, Great Britain, Germany, Spain, Sweden, Turkey, Saudi Arabia, India, Japan, Australia and South Africa) and the co-packing clients are also worldwide from the food, cosmetic and pharma industry and start from small local companies to big multinationals. Today the
Easysnap Group
is divided into two distinct businesses.
Easysnap Technology S.r.l.
 holds the exclusive rights for the Easysnap patent and is dedicated to the research & development regarding materials and the production of the automatic packaging machine.
Easysnap Co-Packing S.r.l.
instead is a company controlled by the Easysnap Technology and offers a contract packing service for any kind of liquid product. Internally the Easysnap Co-Packing is divided into two business units: one for the food industry and the other for the cosmetics and pharma industry.
In October 2015 Easysnap Technology S.r.l. announces its strategic partnership with
Arcade Beauty
, a global company engaged in the development, marketing, sale and production of multi-sensory and interactive sampling solutions.
Read press release for more information
.
The overall production capacity of the Easysnap Group amounts to over 100 million Easysnaps yearly.
Location & Department

Manufacturing Plant
Località le Budrie, 40017 - San Giovanni in Persiceto (BO) - Italy
+39 051 030 12 00


---
Commercial Headquarter
Via Ponte Alto 81, 41123 - Modena, Italy

+39 059 86 35 022


---
Co-packing Department
via Davia 9D, 40017 San Giovanni in Persiceto (BO) - Italy

+39 051 68 10 804


---
Warehouse Department
via Eistein 65, 40017 - San Giovanni in Persiceto (BO) - Italy +39 051 68 10 804